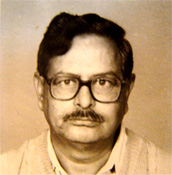 The journey of Bharat Chains and Conveyor Products the brainchild of Late Mr. Basudev Karar, Howrah 4 began in 1971. At that time all his fortunes were at its Nadir. But this pedantic man, in spite of being a novice in the field of iron & steel strove in a steadfast manner to realize his dream of creating his Utopia from a mere pile of debris. No diatribe could make him despondent or deter him from his goal. He acquired to the best of his ability all the requisite knowledge and techniques imperative for the success in his chosen field. With an indomitable attitude he laid down the foundation of Bharat Chains. He consecrated his life and soul to his work and excoriated all the pinions in his path to become adept in the making of appropriate chains conforming to the requirements of the contemporary market. Slowly the company charted an itinerary across the whole country and become the supplier of prime companies.
In 2009, after 38 years, Mr. Karar is no more but his baton is being shouldered by his son Mr. Siddhertha Karar. A BE Engineer by academic qualification Mr. Siddhertha is amenable for trying to adumbrate the company to the zenith of perfection. At present 'Bharat Chain' can boast of skilled labour, market friendly products and new evolving technologies. It also meticulously adheres to its reputation of manufacturing quality materials and conducting amicable transaction.
Thus to conclude Bharat Chain and Conveyor Products as a company has indeed carved a niche for itself in the realm of iron and steel industries. But again this is just the beginning. The company has its target in the future for a full-thrusted strategy to wholeheartedly appease all its customers with its materials. We can just hope for the benevolent blessings of the puissant powers above and hearty cooperation from one and all present in the immediate ambience to ameliorate standards and aid the ascent of the company to the pinnacle of success.
We Are One Of The Leading Manufacturer Of all Kinds Of industrial chain, Pulley, Sprocket, gear, and Heavy Machinery Parts.
Moisture proof, chemical resistant and high strength industrial chain is being manufactured by us. The wide catalogue of industrial chain encompasses roller chains, conveyor chains, elevator bucket chains, lifting chains, forged type chain, forged revetless chain Ply, chains, silent chains, slat chains, link chains, wire ropes, Bi-planner chains, connecting locks etc. We are a renowned mild steel and stainless steel chain supplier in India. We offer various advantageous deals of wholesale roller chain in the market. This stainless steel industrial chain is widely used in different industries such as sugar industry, rice mills, rolling mills, textiles and handloom industry, cement factories ferrous industries, nonferrous industries and so on.
Quality Assurance -

We are proficient in providing superior quality products due to our thoroughly experienced personnel, advanced technology and also due to the use of the best raw materials. These personnel continuously endeavor to improve quality of the products. Our strong management ensures delivery of high quality product on time. Efficacious quality measures carried in manufacturing process of our impeccable quality products are:
• Standards for design,
• High enduringness,
• Impact resistance,
• Corrosion weariness,
• Higher load impact without breakage,
• Stress corrosion,
• Cracking resistance,
• Efficiency under extreme pressure,
• Fracture toughness.